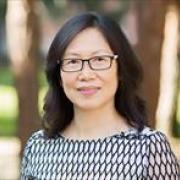 Xianhua Piao, MD, PhD
Dr. Piao is a physician-scientist with a focus in both neonatology and developmental neuroscience. She received her MD from the Fourth Military Medical University and her PhD with Alan Bernstein from University of Toronto, before completing her Pediatric residency at NYU and Neonatology fellowship as well as a post-doctoral fellowship with Chris Walsh at Harvard Medical School. During her postdoctoral study, Dr. Piao discovered that the adhesion G-protein-coupled receptor (aGPCR) GPR56 regulates brain patterning and its mutations cause an autosomal recessive brain malformation called bilateral frontoparietal polymicrogyria (BFPP). Her research focuses specifically on how aGPCRs regulate brain development by mediating cell-cell and cell-matrix interactions. This research engages three processes, each of which is governed in part by the cell-type-specific expression and function of aGPCRs:
CNS myelin formation and repair. Piao and her colleagues recently showed how the aGPCR GPR56 regulates developmental myelin formation through a remarkable tripartite signaling complex composed of a microglial-derived ligand, an oligodendrocyte receptor and an extracellular matrix component.
Synapses, circuits, and neurological disorders. Unpublished work from the Piao lab demonstrates a novel player in microglia-mediated developmental synaptic refinement. She is collaborating with investigators at UCSF and Harvard Medical School to decipher the molecular mechanisms by which glial cells regulate neural circuit formation during perinatal development and associated disease processes.
Maternal immune activation (MIA) and neuropsychiatric disorders. She and her collaborator Jun Huh at Harvard Medical School are investigating how MIA deranges fetal and neonatal brain development through innate immune mechanisms.
Websites