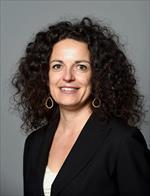 Susanna Rosi, PhD
Department of Physical Therapy & Rehabilitation Science
Department of Neurological Surgery
Brain Injury, Neuroinflammation and Cognitive Function
Cognitive impairments develop in response to a variety of insults to the CNS including disease or injury and constitute a significant factor with respect to overall function and quality of life. The pathogenesis of cognitive deficits is poorly understood and likely multifaceted. My lab is focused on elucidating how injury-induced alterations in integrated stress response, innate immune response, post transcription/translational modifications, and chronic neuroinflammation affect various neural processes underlying cognitive function.
We employ multiple injury models: focal contusion injury with the controlled cortical impact (CCI), diffuse head injury with head fixed close head injury (CHI) model, repetitive head injury with the Closed-Head Impact Model of Engineered Rotational Acceleration (CHIMERA), therapeutic cranial γ-irradiation and ionizing space radiation. Our ultimate goal is to understand the mechanisms responsible for the cognitive dysfunction to identify diagnostic tools for treatment and prevention.
Our published results demonstrate that neuroinflammation alters the coupling of neuronal activity with the transcription of genes that are implicated in long term memory and synaptic plasticity (Rosi et al., Journal of Neuroscience 2005; Cancer Research 2008; Brain 2009). By modulating different aspects of neuroinflammation we reported that it is possible to restore synaptic plasticity, the accuracy of hippocampal network activity and cognition in different animal models of chronic neuroinflammatory conditions (Rosi et al., Brain 2009; Belarbi et al., Journal of Neuroinflammation 2012; Twediee et al; Journal of Neuroinflammation 2012; Belarbi et al., Cancer Research; 2013). More recently we were able to demonstrate that peripheral monocytes infiltrate the brain after brain injury and cranial irradiation and drive the neurotoxic and inflammatory response. Aging exacerbate the peripheral monocytes play a non-redundant and contributing role to the etiology of trauma-induced inflammatory sequelae in the aged brain (Morganti et al., J Neuroinflammation 2016). Most importantly, targeting monocytes infiltration it is possible to modify macrophages polarization and prevent long term cognitive function after injury (Morganti et al., Journal of Neuroscience 2015; Feng et al., Journal of Neuroinflammation 2016).
Current Projects
Deciphering the molecular basis of brain injury-induced dementia.
Use RNAseq and ribosome foot-printing techniques to determine the abundance and translational engagements of all hippocampal mRNAs after trauma.
Dissect the contributions of different cell types (neurons, microglia, astrocytes, infiltrating leucocytes) to trauma-induced integrated stress response. 
Test the efficacy of a novel integrated stress response inhibitor on reversing cognitive deficits after injury.
Identify the dynamics of the post transcriptional infrastructure of gene expression involved in synaptic plasticity and memory after brain injury in behaviorally characterized young and old animals.
Determine the molecular mechanisms linking aging to cognitive loss after trauma.
Determine the role of infiltrating macrophages on the pathophysiology of trauma.
Dissecting prefrontal cortex interneuron dysfunction after trauma in mice.
Modeling repetitive head concussion using the Closed-Head Impact Model of Engineered Rotational Acceleration (CHIMERA).
In vivo metabolic imaging of neuroinflammation after traumatic brain injury using hyperpolarized spectroscopic imaging C13.
Targeting tumor-associated inflammatory cells in order to ameliorate radiation-induced cognitive changes.
Determine the contribution of the peripheral innate immune system in the pathogenicity of irradiation-induced neuroinflammation and develop a novel therapeutic target and optimal time point for its treatment.
Quantitatively determine the short and long term effects of irradiation with high energy particles (modeling radiation experienced by astronauts in space during a mission to mars) on synaptic functions and the role of oxidative stress and inflammation.
Determine if altered levels of extracellularly generated oxygen free radicals play a prominent role in synaptic function following low doses space irradiation with high energy particles.
Lab Members
Timothy Jopson
Staff Research Associate II/Lab Manager
[email protected]
Lara Riparip
Staff Research Associate II
[email protected]​
Xi Feng, PhD
Postdoctoral Fellow
[email protected]
Karen Krukowski, PhD
Postdoctoral Fellow
[email protected]
Edel Hennessy, PhD
Postdoctoral Fellow
[email protected]
Caroline Guglielmetti, PhD
Postdoctoral Fellow
[email protected]
Amber Nolan, MD, PhD
Neuropathology Fellow/Postdoctoral fellow
[email protected]
Austin Chou
Neuroscience Graduate Student
[email protected]
Maria Serena Paladini
University of Milan Graduate Student
[email protected]
Kristen Sacramento
Undergraduate Student
[email protected]
Neuroinflammation, synaptic plasticity and cognitive function
12/12/19    ACRA: Setting Training Expectations for Trainees on the Academic Career Track (1.5 hours)    
9/11/20    Mentoring Across Differences
Websites