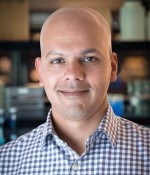 Saptarsi Haldar, MD, BS
Associate Investigator, Gladstone Institutes
Associate Professor of Medicine
Clinical: I am a cardiologist specializing in general adult cardiology.
Primary Appointment: In 2018, I was recruited to be a Vice President of Research at Amgen, based in South San Francisco. I am the head of Cardiometabolic Research at Amgen, where I lead multidisciplinary efforts in drug discovery and development for a wide range of cardiovascular and metabolic diseases. I have maintained visiting faculty appointments at UCSF and Gladstone Institutes, where I continue to participate in mentorship, original research, volunteer clinical service and other academic activities.
Research: I am a Visiting Investigator at the Gladstone Institute of Cardiovascular Disease and a Visiting Professor the University of California, San Francisco. My scientific focus is to understand gene-regulatory and epigenetic mechanisms governing cell state transitions in the cardiovascular system and in skeletal muscle with an ultimate goal of finding novel therapeutic strategies to prevent and treat heart failure, cardiometabolic, and myopathic diseases.
A major focus of our team is in the pathobiology of heart failure, a devastating disease for which morbidity and mortality remain extremely high despite current standards of medical care. As a practicing physician-scientist that recognizes this major unmet need, one of my laboratory's central goals is to discover novel mechanisms underlying heart failure pathogenesis and to develop new therapeutic strategies for this extremely common and lethal condition. We have a deep interest in the very nascent area of cardiovascular epigenetics and seek to unravel how chromatin-dependent signal transduction drives cardiovascular plasticity during physiological and pathophysiological states. As epigenetic regulators and chromatin-associated proteins are often tractable drug targets, we actively seek to translate our findings into novel transcriptionally-active cardiovascular therapeutics.
Vascular & Cardiac Biology
Tissue / Organ Biology & Endocrinology
Gene Regulation and Epigenetics in Cardiovascular and Metabolic Physiology/Disease
Websites