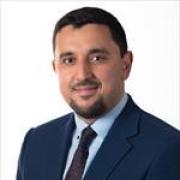 Onur Cil, MD, PhD
Dr. Onur Cil is a pediatric nephrologist and physician-scientist. Cil Lab's research focus is small molecule drug discovery and drug repurposing for treatment of renal, gastrointestinal and cardiovascular diseases. Ultimate goal of our research is advancing our discoveries to clinical trials and establishing better and safer treatments. Our research is focused on membrane proteins including calcium-sensing receptor (CaSR), SLC26A3 (DRA), SLC26A4 (Pendrin), SLC26A6 (PAT1), CFTR, TMEM16A and urea transporters.
Tissue / Organ Biology & Endocrinology
Vascular & Cardiac Biology
Drug discovery/repurposing and disease pathogenesis mechanisms for renal, gastrointestinal, and cardiovascular diseases.
Websites