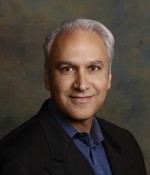 Neil Pravin Shah, MD
Edward S Ageno Distinguished Professor in Hematology/Oncology
Director, UCSF Molecular Medicine Residency Program
Associate Professor
Hematologic malignancies (e.g. leukemia, lymphoma, multiple myeloma) can be devastating diseases capable of impacting people of all ages. We strive to use state-of-the-art tools to identify the mechanisms of action and resistance to the growing class of targeted therapeutics for hematologic malignancies in an effort to ultimately improve therapeutic outcomes. In the past, we unraveled the most common molecular mechanism of clinical resistance to the BCR-ABL tyrosine kinase inhibitor (TKI) imatinib in patients with chronic myeloid leukemia, and identified dasatinib as a promising agent for the treatment of imatinib-intolerant disease. These studies led directly to the clinical investigation and subsequent FDA approval of dasatinib. More recently, through translational studies of primary samples obtained from acute myeloid leukemia patients treated with the FLT3 TKI quizartinib (AC220), we definitively validated FLT3-ITD as a therapeutic target in human AML. This work has directly rekindled interest in developing and testing potent and selective FLT3 TKIs, and several of these agents are demonstrating substantial promise in clinical trials.
A large number of targeted therapeutics are undergoing clinical investigation for the treatment of hematologic malignancies, including inhibitors of kinases and chromatin modifiers. The therapeutic success of these agents depends directly upon the extent to which their targets are critical for the maintenance of disease ("oncogene addiction"). To further improve therapeutic outcomes, it is necessary to understand the mechanisms of action of these agents, and how malignant cells are capable of adapting to their activity. Ongoing research efforts include:
Identifying and overriding on-target and off-target mechanisms of resistance to targeted therapeutics directed against targets such as FLT3, KIT, and mutant IDH using cell lines and primary samples from leukemic patients.
Identifying the mechanisms and mediators of oncogene addiction. We have recently found that BCR-ABL, the most successfully targeted activated tyrosine kinase, establishes oncogene addiction through the establishment and persistence of a high level of feedback inhibition on prosurvival growth factor receptor pathways. We aim to understand the molecular basis of this phenomenon. We hypothesize that if physiologic feedback can be maintained in the setting of oncogenic inhibition in other malignancies, remissions would be deeper and more durable.
Identifying the mechanisms of action of chromatin modifier inhibitors. Several agents have recently demonstrated substantial promise for the treatment of hematologic malignancies, including inhibitors of mutant IDH, MDM2, BRD4 and HDAC. The critical effectors responsible for the cytotoxic activity of these agents are unclear. We are employing saturation mutagenesis and CRISPR-mediated genome-wide knockout and overexpression screens to illumine these areas in an effort to identify both on- and off-target mechanisms of resistance.
Dissecting molecular mechanisms of kinase activation, including dimerization of pathologically activated kinases.
Cancer Biology & Cell Signaling
Improving targeted therapeutics for hematologic malignancies
9/11/20   Mentoring Across Differences
Websites