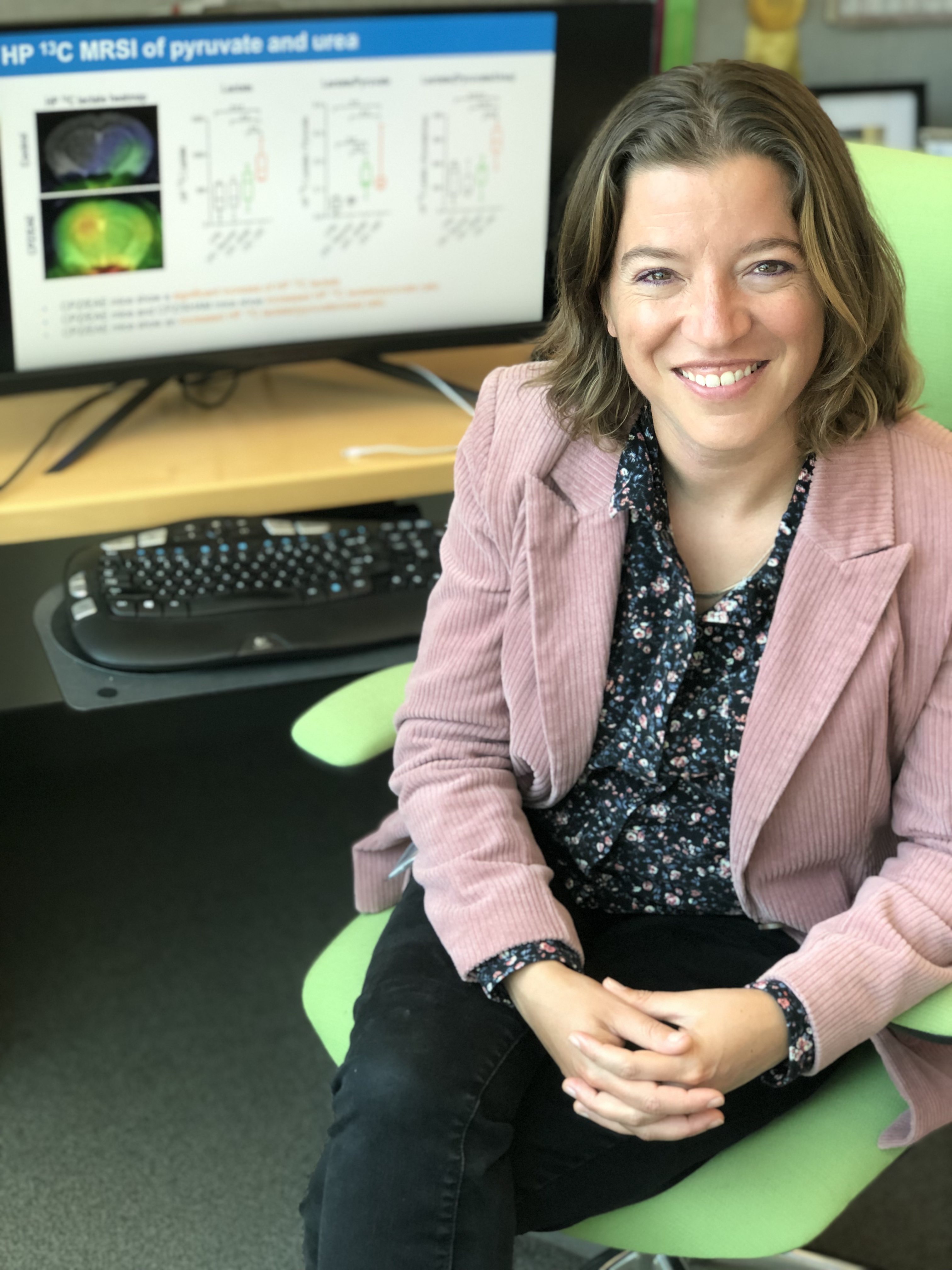 Myriam Chaumeil, PhD
Assoc Professor In Residence
Department of Physical Therapy & Rehabilitation Science
Department of Radiology and Biomedical Imaging
My research program is a direct reflection of my dual education in biology and Magnetic Resonance (MR) physics, and builds upon the synergy between these two fields. I believe that biological discoveries should drive the design of sensitive, specific and clinically translatable MR imaging methods that can improve diagnosis, prognosis and monitoring of therapeutic response. I also trust that thoughtfully applied MR techniques can uncover new biological mechanisms, further our understanding of pathogenic processes and help to identify potential therapeutic targets.
Among all MR methods, the hyperpolarized 13C dissolution dynamic nuclear polarization (DNP) methodology was a thrilling discovery for me, and a perfect fit for my multidisciplinary background. This methodology has been at the center of my research since I move to UCSF as a post-doc. There, I have had the opportunity to learn all aspects of this exciting specialty from internationally recognized scientists, from polarizer hardware to dedicated acquisition schemes. On the biochemistry side, I have developed a high interest in the design and optimization of hyperpolarized probes, from the chemical conceptualization to the requirements for clinical translation.
I am an Assistant Professor in residence in the departments of Physical Therapy and Rehabilitation Science, and Radiology and Biomedical Imaging at UCSF. I am also the Associate Director of the Preclinical MR Imaging and Spectroscopy, as well as a member of the UCSF Biomedical Sciences Graduate Program and the UC Berkeley-UCSF Graduate Program in Bioengineering. My lab focuses on preclinically developing and biologically validating hyperpolarized 13C methods for in vivo measurement of brain metabolism, in physiological and pathological conditions. We have a particular interest in expanding the use of MR metabolic imaging to the study of neurodegeneration and neuroinflammation using preclinical models of Multiple Sclerosis (MS), Traumatic Brain Injury, Alzheimer's disease (AD), CNS lymphomas and vascular dementia. While our main field of expertise is preclinical imaging, our ultimate goal is to have a positive impact on healthcare, designing imaging solutions aiming at refining diagnosis, prognosis and therapeutic regimen in a patient-specific way.
Tissue / Organ Biology & Endocrinology
Our research goal is to develop innovative, mechanism-driven magnetic resonance (MR) metabolic imaging methods for improved detection of neurological disorders and monitoring of therapy response.
12/19/19 ACRA: Setting training expectations for trainees on the academic career track
Websites