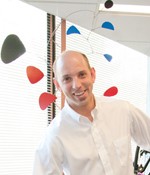 Max Krummel, PhD
Our work focusses on understanding patterns of immune cell-cell interactions and how these generate "the immune system". Our studies of the immune synapse have shown how T cells regulate their motility, how they signal through synapses while moving, how they communicate with each other during arrest, and how they 'search' a new tissue. These are all fundamental findings and provide a lens through which we understand T cell function.
Over the past four years, we have developed novel methods and computational platforms to understand immunological processes in space and in time within normal and diseased organs. We were the first to live-image events in progressive tumors in which incoming tumor-specific T cells are captured by a population of myeloid cells. I am tremendously excited that we have begun to develop a pipeline of next-generation protein immuno-therapeutics using imaging to 'guide' this development.
Concurrently, we co-developed a  imaging technologies that allow, for the first time, observation of the immune system in the homeostatic, infected/injured, allergic or metastatic lung. As with primary tumors, this latter focus has allowed us to dismiss many hypothetical immune scenarios and intensely study those that define the biology in situ. 
These studies define how the immune system is organizing over space and time and guides novel therapeutic solutions.
Cancer Biology & Cell Signaling
The Immune Response in 4 Dimensions
Websites