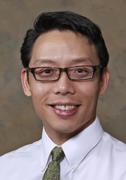 Joseph Shieh, MD, PhD
Director, Medical Genetics Training Program
Associate Professor
Department of Pediatrics
Institute for Human Genetics
Personalize Genomics and NF/RAS Clinics
Dr. Shieh is board certified in Pediatrics and in Medical Genetics. He specializes in evaluating individuals with complex medical problems that may harbor a genetic predisposition. Dr. Shieh's research laboratory aims to understand the genetic basis of human diseases, particularly conditions affecting children, by fostering a dynamic and collaborative environment that integrates science with genetics and medicine.
Dr. Shieh received his undergraduate degree from Stanford University and then trained as a physician scientist at the University of Pennsylvania, where he received his M.D. and his Ph.D. He trained clinically at the University of Washington/Seattle Children's Hospital and Stanford University and then joined UCSF to further develop his research program. He is supported by the Department of Pediatrics, the Institute for Human Genetics, and the NIH National Heart Lung and Blood Institute.
Click on link below for opportunities in the Shieh lab!
Developmental & Stem Cell Biology
Genomic Determinants in Human Developmental Disorders
Websites