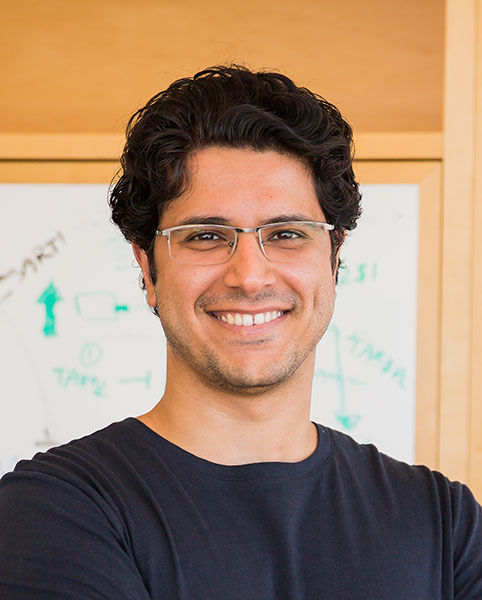 Hani Goodarzi, PhD
Department of Biochemistry and Biophysics
Department of Urology
Cancer, fundamentally, is a disease of disordered gene expression. Cancer cells rely on deregulated expression of oncogenic and tumor suppressive pathways to initiate and maintain the transformation process. Thus, delineating how cancer cells achieve such pathologic gene expression states is a crucial step towards understanding and ultimately treating cancer as a disease. Towards achieving this goal, my laboratory employs a systems biological and multidisciplinary approach that integrates computational and experimental strategies to identify and characterize key regulatory programs that underlie cancer progression. The systems-level frameworks implemented in our lab ensure a truly unbiased and systematic approach to studying this key biological challenge. Such bottom-up and agnostic approaches are crucial for discovering pathways that fall outside of our prior knowledge of regulatory interactions and would otherwise remain hidden in a top-down reductionist framework.
Featured publications:
 Goodarzi H†, Nguyen HCB, Zhang S, Dill BD, Molina H, Tavazoie SF† (2016). Modulated expression of specific tRNAs drives gene expression and cancer progression. Cell, 165(6), 1416-27. PMCID: PMC4915377. †Co-corresponding authors
 Goodarzi H, Liu X, Nguyen HCB, Zhang S, Fish L, Tavazoie SF (2015). Endogenous tRNA-derived fragments suppress breast cancer progression. Cell 161, 1-13. PMCID: PMC4457382.
 Goodarzi H, Zhang S, Buss CG, Fish L, Tavazoie S, Tavazoie SF (2014). Metastasis-suppressor transcript destabilization through TARBP2 binding of mRNA hairpins. Nature, 513(7517):256-60. PMCID: PMC4440807.
Oikonomou P*, Goodarzi H*, Tavazoie S (2014). Systematic Identification of Regulatory Elements in Conserved 3' UTRs of Human Transcripts. Cell Reports 7(1): p281–292. PMCID: PMC4430845. *Equal contribution
Goodarzi H, Najafabadi HS, Oikonomou P, Greco TM, Fish L, Salavati R, Cristea IM, Tavazoie S (2012). Systematic discovery of structural elements governing stability of mammalian messenger RNAs. Nature, 485, 264-268. PMCID: PMC3350620
Cancer Biology & Cell Signaling
Our lab focuses on developing computational and experimental strategies to reveal and mechanistically characterize novel regulatory pathways that drive cancer metastasis.
4/11/19    Acknowleding and Negotiating the Mentee-Mentor Tensions Inherent in the Research Lab (Mission Bay)
10/20/20    Gathering in Community: a Training for Faculty and Staff
Websites