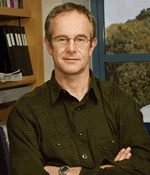 Eric Verdin, MD
Senior Investigator, Gladstone Institute of Cardiovascular Disease
Associate Professor
Our laboratory focuses on the biology of HIV with a particular emphasis on its transcriptional regulation and the role of chromatin. We are currently focusing on understanding the mechanism of HIV latency, which is mediated by the transcriptional inactivation of the HIV promoter. We also study how HIV proteins modify differentiated functions of immune cells during the infection process.
A second focus of the lab is the role of HDAC7, a histone deacetylase, in lymphocyte development. HDAC7 is highly expressed in double positive (CD4 and CD8) developing T cells.  We found that HDAC7 regulates the expression of a cassette of genes that play a critical role in the process of positive and negative selection. We are currently studying a thymus-specific HDAC7 knockout mouse.
A third focus of the lab is the role of acetylation in mitochondrial functions. We study a protein deacetylase, called SIRT3, and its role in metabolic control and aging.
Virology & Microbial Pathogenesis
HIV Pathogenesis and lymphocyte biology
Websites