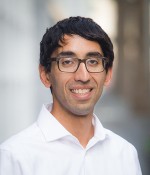 Arun Wiita, MD, PhD
Investigator, Chan Zuckerberg Biohub
Director, UCSF Stephen and Nancy Grand Multiple Myeloma Translational Initiative Laboratory
Assistant Director, UCSF Clinical Cytogenetics Laboratory
Associate Professor
Department of Laboratory Medicine
Our laboratory is focused on using mass spectrometry-based proteomics to discover new biology and therapeutic targets in hematologic malignancies (blood cancers) and genetic disease. Our major hypothesis is that "biology happens at the protein level" – i.e. RNA-level analysis is not enough. This is particularly true when investigating biological signatures driven by protein post-translational modifications, protein-protein interactions, and altered sub-cellular localization.
To achieve these goals, our inter-disciplinary group aims to integrate proteomics-based screening with "multi-omics" bioinformatics, clinical data, epigenetic methods, genome engineering, antibody engineering, cellular engineering, chemical biology, and mechanistic biology. In particular, significant efforts in the lab are focused on developing new proteomics methods to discover cell surface targets, and then utilize emerging protein and cellular engineering approaches to develop novel cancer immunotherapies to eliminate disease.
Cancer Biology & Cell Signaling
We are interested in utilizing proteomic methodologies to uncover new therapeutic targets in blood cancers, and then developing new cellular therapies to treat disease based on these discoveries.
4/23/20    Effective Strategies for IDPs
4/30/20    Mental Health in a Pandemic: Q&A for Faculty
11/10/20    Optimizing the Efficiency of Your Lab
2/16/21    Three Truths and Three Tries: Facing and Overcoming Critical Social Justice Challenges at the Micro, Mezzo, and Macro Levels
Websites