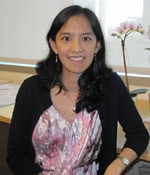 Aimee Kao, MD, PhD
Despite intensive research efforts, many of the basic mechanisms underlying neurodegenerative diseases remain unclear.  We are tackling this problem by focusing on how aging, stress, gene variants and mutations alter protein homeostasis and lysosome function to predispose to neurodegeneration. Our recent work includes studies on the normal and abnormal metabolism of tau, TDP-43, progranulin and alpha-synuclein with a focus on how they are degraded by the proteases in the lysosome. We also consider how the lysosome function is regulated, including via pH set point and protease maturation.
For a recent overview of some of our work, please watch the video at this link. 
Pathophysiology of Neurodegenerative Diseases: Aging, Stress, Lysosomes and Protein Homeostasis.
4/26/19    Sharpening your Mentoring Skills (SyMS) with Sharon Milgram (Mission Bay)    
11/23/20    Building Community in the UCSF MSTP 
9/11/20    Mentoring Across Differences
2/18/21    Three Truths and Three Tries: Facing and Overcoming Critical Social Justice Challenges at the Micro, Mezzo, and Macro Levels    
Websites